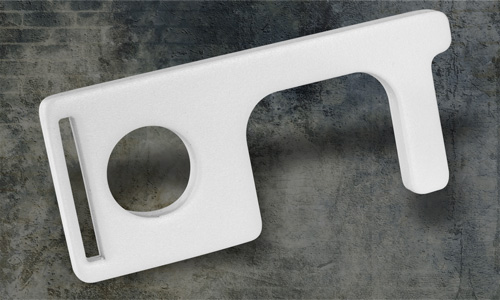 Standard Production Time:
• 3-7 Days ( Once Artwork is Approved )
Available Products:
• Touch Free Key
Touch Free Key Overview:
Stay Healthy and Safe with a super handy Touch Free Key that you can use for many uses throughout your day! From opening doors, pushing elevator and key pad buttons at ATM's and stores. These Touch Free Keys are similar to others on the market, but a fraction of the cost! These Touch Free Keys are easy to keep in your pocket or purse for quick access and use! They even float if dropped in water!

Touch Free Keys are non-conductive and will not work with touch screen devices and monitors such as cell phones, tablets, and electronic devices that uses conductive contact screens. Touch Free Keys are designed for physical buttons only.

TOUCH FREE KEYS ARE NON-PRINTABLE!


Product Highlights:
Product Details/Information:
Cut and constructed from white plastic, these non-conductive Touch Free Keys are super lightweight, yet super strong to pull open even heavy doors! Each Touch Free Key is approx. 4"x1.75"



For Additional Information Or To Order:
S&K PRINT / Bo15, Inc.
1003 Liberty Industrial Drive
O'Fallon, MO 63366
SALES@SKPRINT.COM
https://SKPRINT.COM
1-888-355-0345, Option 2