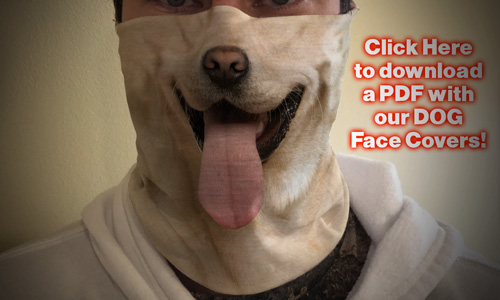 Standard Production Time:
• 3-5 Days
Available Products:
• Face Cover - 8 Inch - 1 Sided Print
• Face Cover - 8 Inch - 2 Sided Print
• Face Cover - 8 Inch - Blank
Face Cover Overview:
STAY HEALTHY AND SAFE FROM COVID-19! The main reason the COVID 19 virus infects so many is because people touch their nose, mouth, and face. Our covers remind employees and family members to not touch their face and help keep them and others health and safe. Our washable/re-usable face covers are a great way to help your families and employees safe from this infectious disease.

>> NEW EAR TO EAR FACE MASKS! We have our new Ear to Ear Printable Face Masks available that are a great way to keep you and others healthy and safe. Choose from BLANK, 1 Sided Print, or our 2 Sided Reversible Printed versions. Each 13x5.75 inch mask is made from 100% Polyester fabric and is easily washable and reusable.

Important information about our Face Covers:
- Covers most masks including the N-95 mask
- Our Face Masks help to hold your masks tightly to your face
- Face Masks are Printable which can help bring comfort and joy to patients and co-workers
- Even when used without a mask, our Face Covers help you from touching your face ( mouth and nose )

VISIT OUR ONLINE STORE TO SEE MORE INFORMATION ABOUT FACE COVERS!

DUE TO THE CORONA VIRUS/COVID-19, FACE COVERS CAN'T BE RETURNED UNDER ANY SITUATION/CONDITION!


Product Highlights:
• Washable
• Use Again and Again!
• Printable
• 100% Polyester
• Blank and Printed
Product Details/Information:
Our Face Covers feature a full wrap around tube-style construction which eliminates the painful elastic ear straps that cause rubbing and sores from other disposable face covers. These coverss are made from 100% polyester and can be printed in full color! Each Face Cover can be washed over and over again which is great as there is a current shortage of disposable face masks on the market! Buy one and use it again and again!



For Additional Information Or To Order:
S&K PRINT / Bo15, Inc.
1003 Liberty Industrial Drive
O'Fallon, MO 63366
SALES@SKPRINT.COM
https://SKPRINT.COM
1-888-355-0345, Option 2