Full Color Spot Printed
T-Shirts for only $.99!
Let us spot print your next 100% Polyester T-Shirt job for only $.99/each! Using YOUR supplied shirts, or ours for an additional cost, we can spot print your artwork in full color for only $.99! From 1 shirt to 10,001+, we can handle any size order. Call TODAY to get your next Spot Print T-Shirt order in line for this incredible offer!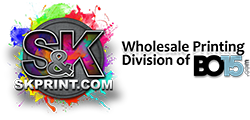 1003 Liberty Industrial Dr, O'Fallon, MO 63366 | sales@skprint.com | 1-888-355-0345