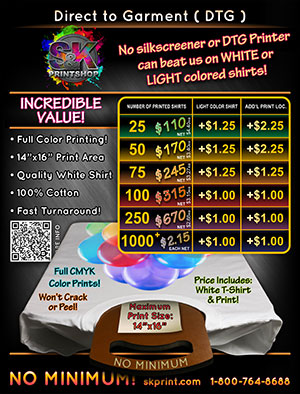 Click on image above for a larger, Customer Friendly fillable version.
S&K wants to be your single source supplier for all of your Printing, Dye Sublimation and DTG - Direct to Garment needs!

S&K is looking to be your go-to supplier for FULL COLOR printing. Have you tried to get printing done at a silkscreener and can't meet their minimum qty requirements? We have NO MINIMUMS for our printing so we are great for those smaller jobs that are too expensive to do with other methods.

Our DTG printing works best on White or Light colored shirts and can have ALL CMYK colors, so you are not limited to multiple plate/screen charges! Load it up with color, it is all the same price!

Whether you are needing 1 shirt or 1,001+ shirts, we can get these printed for you incredibly quick!

We would love to help you stand out from your competition! Feel free to contact us at any time to order your DTG Shirts Today!


If you are ready to start saving money on your Dye Sublimation or Print orders either call us now at 1-800-764-8688 or send us an email to:


sales@skmfgprintshop.com