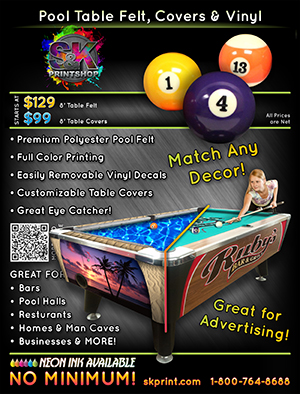 Click on image above for a larger, Customer Friendly fillable version.
S&K wants to be your single source supplier for all of your Printing, Dye Sublimation and Pool Table Felt and Vinyl Wrap needs!

Do you have an old pool table just sitting around collecting dust? Do you have a table that your customers play on, but it has the traditional green felt? Why not give them an update that you and your customers would be excited to play on!

Pool Table Felt:
The top of your table gets the most use and abuse causing wear and sometimes tearing. Why not give your table a new covering with updated Pool Table Felt! Our Pool Table Felt can be printed in any color, pattern, design to match your home, business and location. We can print a favorite photo, a pattern or texture to match curtains or carpet or your company/event logo to help you to advertise to your customers!

We supply you with all of the needed felt for the table and bumpers to help make your table truly unique which will give it the WOW factor!

Pool Table Covers:
For those times that you are not shooting a game of pool, why not protect your table with a custom Pool Table Cover. Our Pool Table Covers can be printed with any artwork or design to match your business, resturant or home decor. These Pool Table Covers are a great way to help protect your investment!

Vinyl Pool Table Wraps:
Is the edge and sides of your table getting worn from play? Is it peeling or fading? Why not give it a whole new look with our Pool Table Vinyl Wraps! You can customize your table to look like a custom, high end model with very little cost or effort. S&K can print logos, graphics, textures and more to make your table truly unique. Our vinyl can be removed in the future if you want to change it up again. For businesses, this is a great way to sell advertising space that will be seen by your customers or let them know of upcoming specials and events!


If you are ready to start saving money on your Dye Sublimation or Print orders either call us now at 1-800-764-8688 or send us an email to:


sales@skmfgprintshop.com