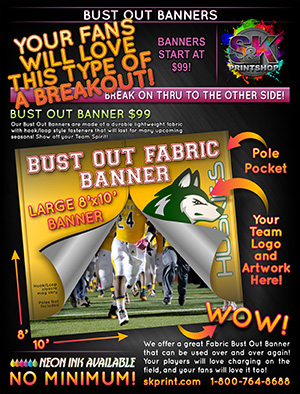 Click on image above for a larger, Customer Friendly fillable version.
S&K wants to be your single source supplier for all of your Printing, Dye Sublimation and Bust Out Banner needs!

Do you have a sports team that is looking to make a great impression when entering the field? A Bust Out Banner is a great way to show your fans and the other team you are ready to play!

Bust Out Banners:
Our Bust Out Banners are made of a lightweight, yet very durable fabric that has pockets on the 2 edges for support poles ( not included* ) to make it easy to display. The center of the Bust Out Banner is fastened with hook/loop style fasteners to make assembly and 'Busting Through' quick and easy!

* Support Pole Information:
Due to the size and weight we do not include poles in the Bust Out Banner kit. You can use 1" to 1 1/4" PVC poles that are 8' 6'' long. We recommend for easy storage that you cut each pole into 2 sections and use a connector piece to join them together. You will need 2 complete poles for the banner.






We would love to help you stand out from your competition! Feel free to contact us at any time to order your Bust Out Banners Today!

If you are ready to start saving money on your Dye Sublimation or Print orders either call us now at 1-800-764-8688 or send an email to:


sales@skprint.com