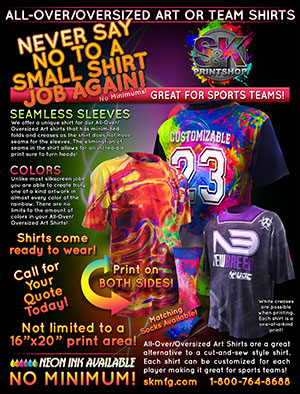 Click on image above for a larger, Customer Friendly fillable version.
2015 S&K EMAIL BLAST - 7 - All-Over/Oversized Art T-Shirts!
S&K wants to be your single source supplier for all of your Printing, Dye Sublimation and All-Over/Oversized Art T-Shirt needs!

How a player looks on the field sometimes is almost as important as how they play on the field. Having a unique, bright and colorful uniform helps to create team spirit and unity among the players.

What makes the All-Over/Oversized Art T-Shirts a great value is that the artwork can be printed over the ENTIRE shirt, both front and back! As the prints are all digital having a custom shirt for each player with their name and number is never a problem. This is something that can not be easily done with silkscreen or vinyl. Another benefit to our All-Over/Oversized Art T-Shirts is we have NO MINIMUMS on our products so if you only need a few shirts for a small team our product will be an excellent alternative to setting up expensive screens and having large minimum quantities.

We can print on standard shirts or on our specialty All-Over Print T-Shirts which DO NOT have seams on the shoulders for the sleeves which helps to minimize creases and folds in the shirt which cause white areas to be seen in the printed item. As with all Dye Sublimation products, from any vendor, there may/will be white creases/areas in the finished product, but we take care to try to elimiate as much as possible for your customers.

We also can help complete the uniform look for your players as we also offer matching artwork on socks! We have a great sock line which was created just for S&K to help minimize white lines being vizible when worn. If you have great artwork for your shirts, also put them on socks for your team to show team spirit!

We would love to help you stand out from your competition! Feel free to contact us at any time to order your All-Over/Oversized Art T-Shirts Today!






If you are ready to start saving money on your Dye Sublimation or Print orders either call us now at 1-800-764-8688 or send us an email to:


sales@skmfgprintshop.com